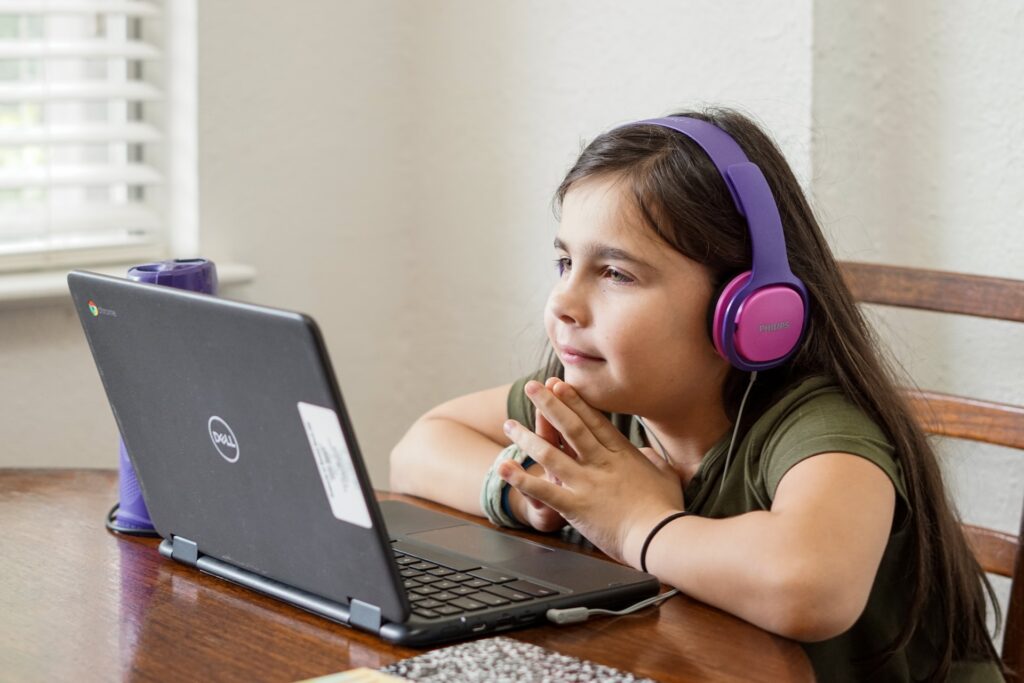 Today's kids are born into a world of technology. It's not uncommon for children to be familiar with iPads and smartphones from a very young age. Technology can be a great way for kids to learn about the world, but there's no denying that the internet can be a dangerous place. Even adults aren't immune to things like cyberattacks and scams. Don't assume your tech-savvy kids (whether they're toddlers or tweens) are cyber smart enough to stay safe online.
Thankfully, there are things you can do to keep your kids safe while they're browsing, whether they're using a computer, phone, or tablet. Let's cover a few fun, actionable strategies and methods that will help you feel more comfortable letting your child spend time online.
Talk to Your Kids About Being Cyber Smart
One of the best ways to keep your children safe online is to make sure you're having regular conversations about it. Let them know what it means to be "cyber smart" by warning them about potential dangers. These include:
Online scams
Cyberbullying
Phishing
Identity theft
Giving information to strangers
Your goal shouldn't be to "scare" your kids into not having fun online. Rather, it should be about keeping an open dialogue regarding the responsibility of spending time on the computer, tablet, or phone. The internet can be both educational and fun for kids. With the wide variety of educational apps, games, and social media platforms, they can learn alongside interacting with friends.
But, if Spiderman has taught us anything, it's that "with great power comes great responsibility". Letting your kids know what they should look out for and telling them how to protect themselves shows that you trust them. It can make them feel empowered each time they get online.
Use Parental Controls for Internet Safety
Parental controls can be a great way to ensure your children aren't downloading any unsavory apps or going to dangerous websites. Kids are using technology earlier in life than ever before. Even some kids as young as 2 use the internet regularly. Even if they can't read or type, you might be amazed how easily they can navigate their way onto a site that isn't meant for them.
Parental controls offer peace of mind for you, knowing your young children can't make their way onto any sites or apps that are inappropriate. They're even great for older kids who might be curious about certain things, or who might hear about a certain app from their friends that you're not willing to let them try. You might get some negative feedback from pre-teen kids about parental controls, especially if they feel like they're old enough to explore the internet freely. Use that as another opportunity to talk to them about the dangers of being online, and consider working with them to set healthy boundaries. If they can show you they spend their time online responsibly and safely you might be able to loosen the reigns on your parental controls.
Unfortunately, inappropriate content is all over the internet. It can be hard to pick and choose which sites and apps are safe, but parental controls can give you a head start, blocking out inappropriate content and keeping you in control of your child's digital footprint for just a bit longer.
Build Healthy Habits Offline
While letting your child spend time online isn't a bad thing, it shouldn't take up every moment of their free time. You can improve their safety online by setting a good example yourself. Healthy habits are a form of self-care, and when you show your children the importance of prioritizing your well-being each day, they're more likely to do the same. Some easy ways to incorporate self-care into your life include:
Practicing healthy hygiene
Exercising
Prioritizing sleep
Eating nutritious meals
Being mindful
Another great way to build healthy habits is to take up a hobby – something that doesn't involve technology. Taking on a family activity with your kids will strengthen your bond and will help to teach them the importance of spending time away from the internet. Try things like cooking together, going hiking, or building a snowman in the cold winter months.
You might even consider sharing some of your favorite retro toys with your kids, and talking about how things were when you were younger. Today's children have never known a world without the internet. Explaining what those times were like will fascinate them, and probably trigger a slew of hilarious questions.
Strong Family Relationships Support Cyber Safety
Spending more time together as a family is a great way to build healthy relationships with your kids. it boost your bond as a family, and encourage your children to develop a sense of self-worth. It can even improve their moral development.
Remember, even if your kids have multiple digital devices at their fingertips, you're still in control of the internet in your own home. Don't be afraid to have rules, expectations, and boundaries. Talk to your children about how to stay safe online and what to avoid, and utilize parental controls to ensure their safety. By keeping your kids safe online now, they'll grow up to have healthier, safer digital habits as adults and stay cyber smart for life.
Charlie Fletcher is a freelance writer from the lovely "city of trees"- Boise, Idaho. Her love of writing pairs with her passion for social activism and search for the truth. You can find more of her writing on her Contently.