We know exactly what you think about summer. The perpetual smell of sunscreen, the endless hours of screaming as they run through the house with no schoolwork, the "mom can we go to the park?". Now imagine them floating off on a (perfectly safe) river, leaving you to enjoy the sunshine and warm breeze. Sounds good, right?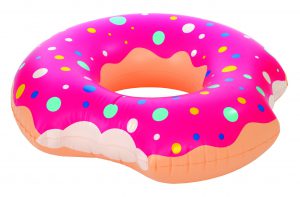 Take advantage of the perfect weather and the nearby pools, lakes, or even oceans with some of the coolest pool floats around. Our bright and fun donut float will be the life of the party no matter where you take it. The super-durable vinyl material means they're not likely to puncture or pop, and they can hold up to 200 pounds – perfect for lying side by side and catching some summer rays.
Spend the rest of your summer living deliciously, with mouth-watering accessories that will have your friends begging for a bite! Take the plunge and order yours now!
Donut float: https://www.wickeduncle.com/childrens-gifts/giant-donut-pool-float-2