Who knows why – maybe some scientist does – but a lot of children are born just after Christmas. And they want you to know, amazing as it is, they have birthdays too. I know this is weird, but one of the Elves here at Wicked Uncle has a brother with 7 children and 4 of them were born (not the same year) in January.
So, just a reminder, January's child is Fair of Face, Full of Grace, Loving and Giving, Works Hard for a Living and, well, you might know the rest of the nursery rhyme.
And, in the meantime, in case you're missing Christmas, one last Christmas joke to carry you through for a year.
Why did the orange take a prune to the Christmas party ?….. Because it couldn't find a date.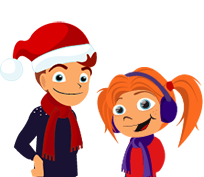 Happy New Year from everyone at Wicked Uncle.