Warning: This Blog is Pun-tastic.
Dinosaurs ruled the Earth for 160 million years, and lots of kids today still think that dinosaurs rule. We have some really neat dino toys that are really popular with kids. If you buy them any of these, they will think you are totally roarsome. Dino-mite, you might even say! And now that we've broken out our best dino puns, we present our guide to the best dinosaur gifts for young children: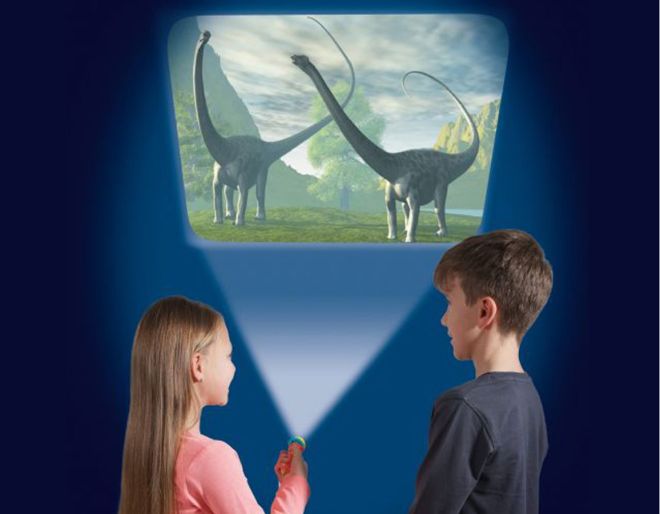 Dino lovers will be amazed by this awesome flashlight that projects images of dinosaurs around your room. From the Natural History Museum, this flashlight is way more fun than a normal flashlight! It comes with three slide discs that when slotted into the flashlight project 24 color dino images. Plus, it can also be used as a normal flashlight without the slides. Perfect for taking camping, on sleepovers, or for pre-dino-snores wind-down time… if you find T-Rex's relaxing, that is!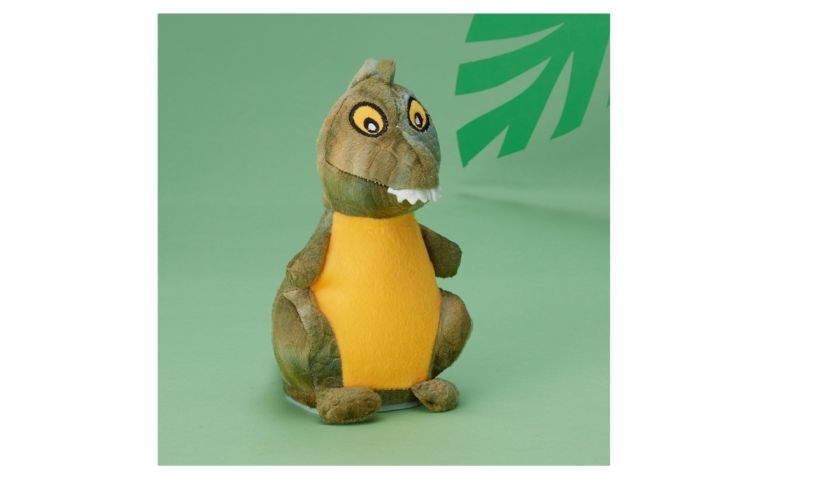 An adorable and agreeable plush green dinosaur that will repeat everything you say in a funny dinosaur voice and bop its body along. Simply insert the batteries at the bottom of the dinosaur and flip the power switch to ON. Then enjoy as he repeats whatever you say next. He's always ready to engage in endless repetitive dialogue, happy agreeing with whatever you say!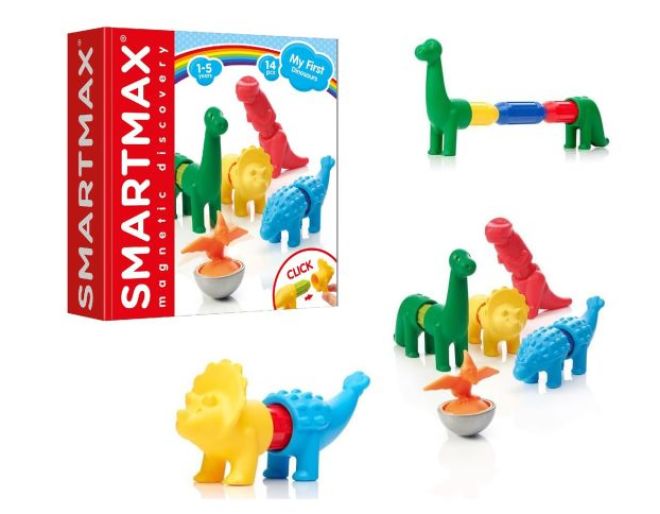 For the prehistoric-loving toddler, this mix and match magnetic set is perfect. The chunky, soft-touch dinosaur parts easily click into each other–make four different dinosaurs, or experiment and make some fun combinations! A fun way to introduce younger kids to dinosaurs. Roarsome!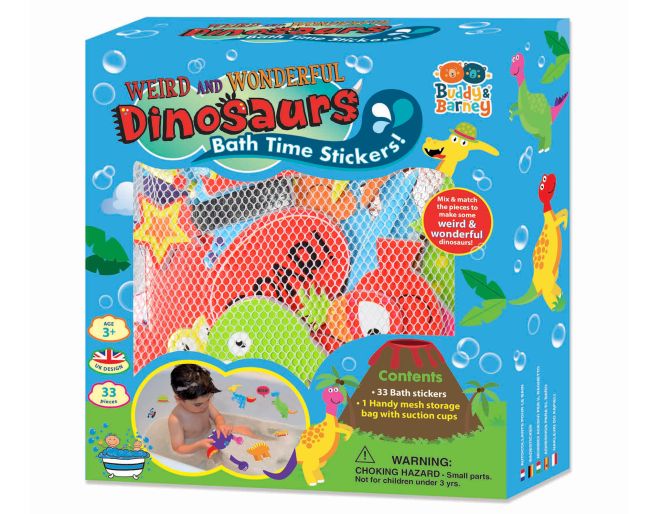 Bring some extra fun to bath time with these large foam bath stickers, which can float in the water or stick to the side of the tub or tiles. Great for imaginative bath time play, the dinosaurs can be mixed up and given funny hats, shoes and accessories for extra giggles! Comes with a handy mesh storage pouch with suction pads, for when bath time has become extinct and you need to tidy up!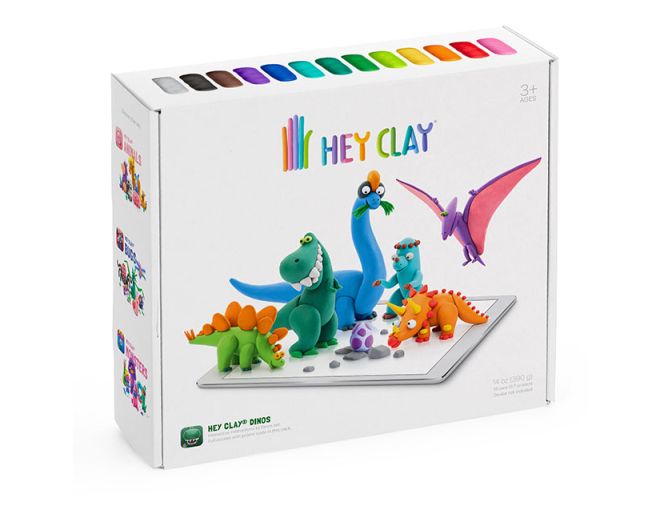 This is a lovely set for creative dino fans! It includes18 cans of clay in vibrant colors that can be easily molded into 6 dinosaurs including a T-Rex, Stegosaurus and Pterodactyl. Download the app and follow the easy instructions to make some awesome 3D models, or freestyle your own creations! A dino-mite gift idea for little artists!
Enter a prehistoric world of not so scary dinosaurs with these delightful odd socks. Match a red T-rex with a blue Diplodocus or even an orange Triceratops. These six colorful socks create no less than 15 different pair combinations–that's a different pair everyday for over a fortnight. Sock size is child US 9 1/2–13. Dare to scare–these are so fashion forward it hurts.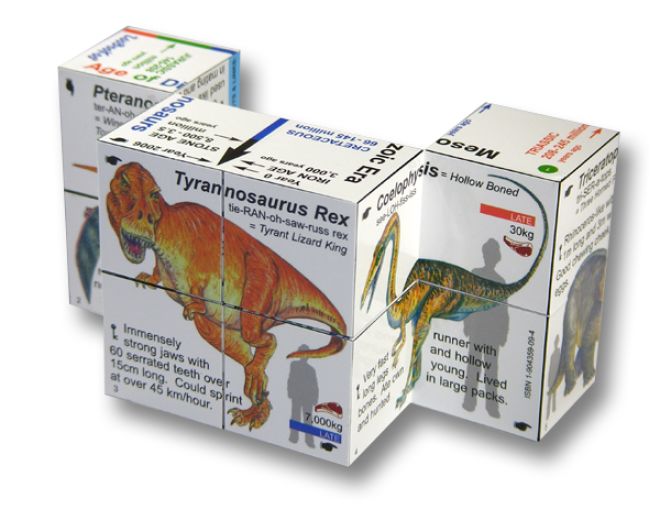 This clever cube book is like a puzzle as well as a book–once you've read the first 6 'pages', turn them inside out to find the other 6! Packed full of fascinating dinosaur facts on size, diet, weight, when they lived, the meaning of their names, and more. An excellent resource for future palaeontologists!
There you have it, the latest news about best dinosaur gifts for young children. We hope you agree that they are T-rexecellent and can't be Tricera-topped. Unlike our dinosaur puns, which are kind of Pteroble. Saury about that.
Don't forget to gift-rapt.
Dino jokes, by way of apology.
Q: How do you know if there is a dinosaur in your refrigerator?
A: The door won't shut!
Q: What do you call a paleontologist who sleeps all the time?
A: Lazy bones
Q: Why can't you hear a pterodactyl using the bathroom?
A: Because the P is silent.
The Wicked Uncle Seal of Approval
You can trust Wicked Uncle because we know toys. We regularly visit every toy fair to find unique and fun toys, not just doing searches on the web. We have great customer satisfaction, personalized service and will follow up to ensure your satisfaction. If you do happen to have any issues, our helpful customer service squad is on hand to assist and solve any problem.
Why We Chose Them: All of the toys Wicked Uncle recommends are high quality, kid tested and from top brands. All toys are age-appropriate and categorized accordingly, so there is no guessing whether or not they are above or below the child's skill or interest level.
How We Test Them: The children of our very own staff test and kid approve every toy for fun! We delivered over 100,000 toys (and smiles!) just last year alone in the continental USA.
Want to see even more great toys ? Click here to check them out!
Let Us Know!
Which toy is your favorite? Have you used our gift service? Let us know in the comments below or reach out to us on social media. Happy shopping!